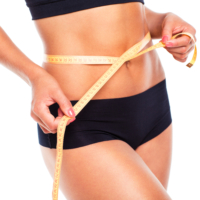 O
ver time, our bodies accumulate toxins in our fat cells. Our incredible body wraps use an all-natural process to extract those toxins and leave your body nourished, tightened and toned. For the best results, we recommend a series of 6 to 12 wraps performed 5 to 7 days apart. However, a single body wrap can help you lose inches!
The contour body wrap uses circulation and pressure to flush toxins and waste materials from the system through external and internal detoxification of the body. As the solution removes toxins and increases circulation, our skilled technicians are able to create an inch loss of up to 30 inches for optimized body shaping. You will lose inches, reduce the appearance of cellulite and stretch marks, tighten and tone, contour the soft areas of the body, and improve overall general health, all in one relaxing full body wrap treatment.
How do body wraps work?
The body has three layers of fat. Over time, toxins accumulate and life shapes our bodies. Accumulation of the above toxins in the body causes poor circulation and water retention, and the body's natural elimination process becomes weakened. As toxins accumulate between the fat cells, the skin begins to take on the orange peel effect of cellulite as the fat cells expand to accommodate trapped toxins (demonstrated on the right side of the body fat diagram provided). Our body wraps use an all-natural mineral detoxifying solution which is absorbed into the body, extracting toxins from between the fat cells and restoring much-needed nutrients and minerals to the body. As toxins are removed, empty pockets are formed and the compression of our advanced wrapping technique creates inch loss and nourishes, tightens, and tones the skin.
What should I do after the wrap?
The body wrap process is still working in your body for 5-7 days after your body wrap and provides your body the ability to continue inch loss and tissue reduction. For continued results, we suggest the following: Wear contouring clothes like a firm body shaper. Avoid toxic foods such as salt, sugar, alcohol, caffeine and carbonated beverages for several days following the wrap. Drink 8 to 10 glasses of water a day. Avoid creams or lotions on your areas of concern and take lukewarm showers during this time period. Dry brush with cellulite cream to increase circulation and decrease the appearance of cellulite and stretch marks.
How long does a body wrap take?
Your first body wrap session will take approximately 2 hours. The initial pre-consultation, measuring, and wrapping will take approximately 30 minutes. An additional 45 minutes are spent wrapped in the private infrared salt sauna. After being unwrapped, a second measurement and dressing take approximately 15 minutes, followed by a post-consultation where we give you the results from your first session. For our members and program holders, the body wrap should take approximately 1½ hours.
How often can I get a body wrap?
The body wrap is a safe and effective process that may be done as often as you wish. For inch loss results, we have found that a series of 6 to 12 wraps, performed at least 5-7 days apart, give most clients the full benefit of the process. If you are losing weight, a continuing series of treatments will show results and help tighten the skin to your new shape. For maintenance, we recommend coming in every 6-8 weeks to maintain your results and to keep the skin soft and supple.
How many inches will I lose?
Depending upon body type (the proportion of soft tissue to muscle mass), most clients average a 10-inch loss on their first wrap, and plus or minus 2 inches on the second and third wraps.
Does it involve dieting?
No dieting or exercise is required for inch loss.
How long does it last?
As long as you maintain your weight (or lose weight), we guarantee the lost inches will stay off for at least 2-3 months. Bear in mind that, in everyday life, we continue to take in toxins through chemicals and preservatives absorbed daily through the air we breathe, the foods and drinks we consume, and the products we use on our bodies. As previously noted, the solution is removing toxins, so introducing toxic substances back into your body could reverse the effects. During your post-consultations, we give instructions to help maintain and lose additional inches. We recommend reducing the number of toxins by avoiding salt, sugar, fried foods, alcohol, caffeine and other highly-toxic foods. Regular exercise will also delay the re-toxification process and prolong your inch-loss results.
What should I wear to be wrapped?
In order to maximize the coverage of a contour wrap, we suggest that women be wrapped in cotton undergarments, and men are required to wear gym shorts or swim trunks. You will be wrapped in warm, damp bandages, so bring an extra set of dry undergarments for after the wrap.
Does the wrap involve exercise?
Our system will reduce inches without exercise, but the benefits of any level of exercise will increase your results. Just sit back in a massage chair and let the solution and our wrapping technique do all the work for you.
Is this just a temporary water loss?
Absolutely not! The Wrapped In Wellness contour wrap is a firming and toning process that produces results by detoxifying and contouring the flesh; therefore, you will lose inches, not pounds. We recommend drinking 8 to 10 glasses of water a day, especially on the days following each wrap to continue the detoxification process through the body's natural elimination system. Flushing your system this way will ultimately aid weight loss.
If I want to change my body size quickly, do you offer packages?
We do offer a number of different packages and memberships to fit any budget.
Will wraps help lap band/gastric bypass patients tighten and tone excess and loose skin?
Body Wraps are the perfect partner for gastric bypass or lap band patients who are losing weight drastically. Losing weight causes a breakdown of fat, releasing more toxins within the soft tissues, frequently resulting in loose, flabby-looking flesh.