BC's Wellness Teas are wonderful loose leaf blends created locally with love and with ingredients sourced from around the world!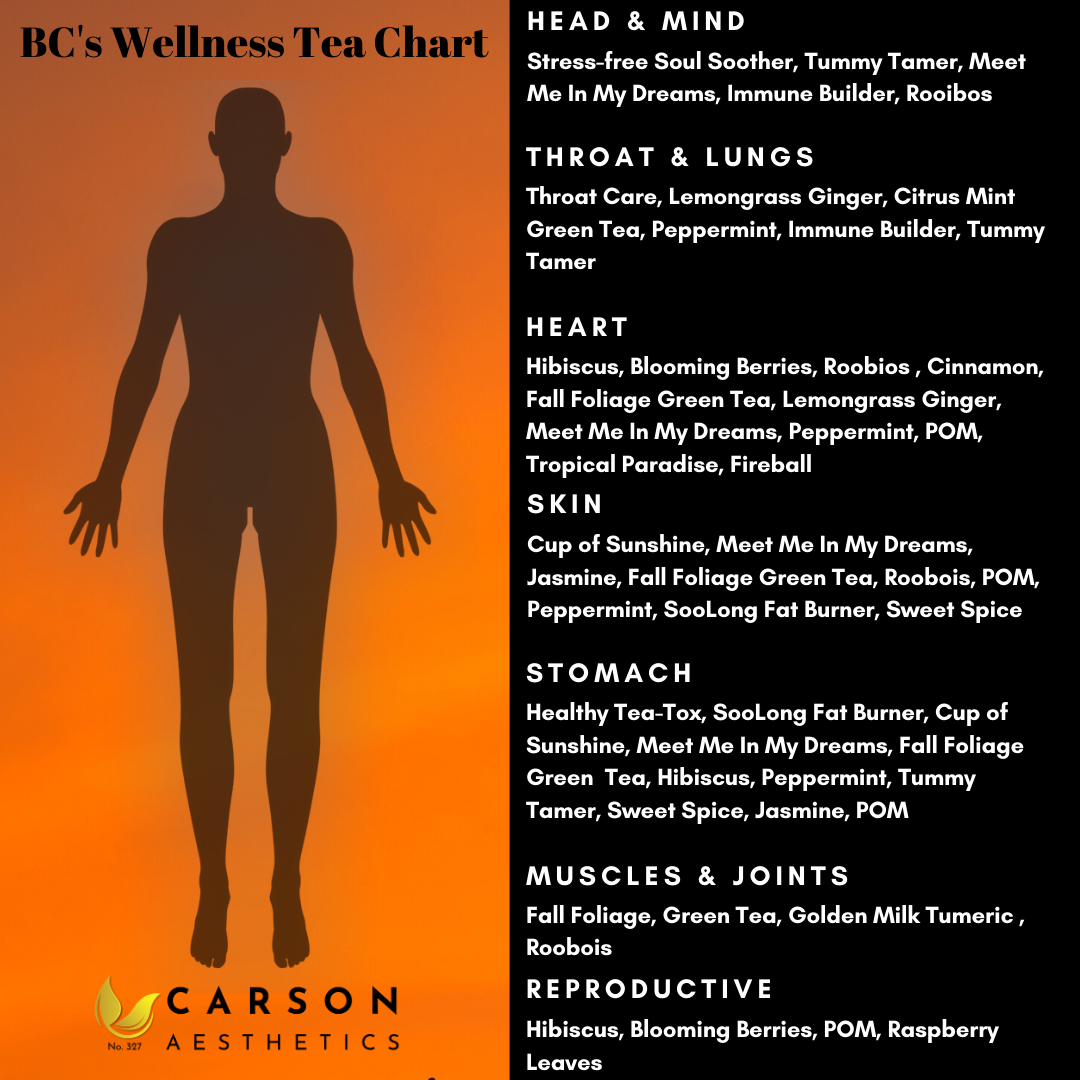 A cup of sunshine tea
Just what an early morning calls for! A nice clean, crisp taste of fresh lemon blended perfectly into this black ceylon tea base. This pairing is sure to warm you up on a cold day! Contains a high level of caffeine. Best if you steep for 3 minutes. Ingredients: Black Tea, Natural Lemon Flavor And Marigold Flowers.
Blooming Berries
This blend of natural fruits and spices that brews up a delicious, mouthwatering cup of herbal tea. It holds a special appeal for kids and sweet-toothed adults as it is caffeine free indulgence. No sugar or other sweeteners the flavor is all natural, and derives from hibiscus flowers, rose hips, cranberries, natural forest berries flavor and blueberries. Ingredients: Rose Hips, Hibiscus, Cranberries, Natural Forest Berries Flavor And Blueberries 1oz
Citrus Mint Green Tea
Mint, Citrus, and Floral tones coat your palette when you take a sip of our refreshing and invigorating Citrus Mint Green tea blend. This moderately caffeinated blend is and approved for afternoon tea! This tea contains a moderate level of caffeine Steep for 2-3 minutes.Great For: Enhancing fat-burning, Diabetes, Lowering cholesterol levels, Motion Sickness, Respiratory issues, Nausea, Indigestion, Improves Blood Circulation, Combating damaging free radicals. Ingredients: Green Tea, Spearmint Leaves, Lemon Grass, Lemon Verbena, Orange, Marigold Flowers, Natural Lemon And Natural Orange 1oz
Cocoa Berry
Chocolate-dipped strawberries is what comes to mind after a sip of this blend. Have a cup when those cravings begin after work or dinner. Forget about the calories and the guilt of having desert and go for a cup of this dark, rich and chocolatey tea. Contains a high level of caffeine. Best if you steep for 3 minutes. Ingredients: Black Tea, Rose Petals, Natural Chocolate Flavor, Natural Strawberry Flavor, Cocoa Nibs, Dark Chocolate Chips And Strawberries
Fall Foliage Tea
Crisp fall mornings, smells of autumn fires, candy apples all things that come to mind while having a cup of this fall blend. Notes of cinnamon and creme brûlée coat your palate giving feelings of warmth and coziness. Contains a moderate level of caffeine. Best if you steep for 3 minutes. Ingredients: Gunpowder Tea, Apple Pieces, Cinnamon, Rose Hips, Natural Creme Brûlée Flavor, Marigold Flowers And Rose Petals
Fireball
Cinnamon makes everything a little better. Known for being helpful in lowering blood sugar and cholesterol as well as offering anti-inflammatory effects. This blend is great alone but also goes so well with so many flavors, adding sweetness and gentle heat. The scent brings back memories of the nostalgic Fireball hard candy!
Golden Milk Turmeric Tea
A clash of turmeric and other spices add a warm, earthy flavor while the fruit pieces add a hint of sweetness! Enjoy the full of healthy benefits and natural anti-inflammatory properties all wrapped in a great cup of tea. Contains no caffeine. Best if you steep for 5-10 minutes
Healthy Tea-Tox
At different stages in our life we all may need a little help handling our indulgences. Not to mention this blend effectively rids our body of toxins which impede our body slimming journey. Classic remedies include oolong, green, and yerba mate teas for energy and metabolism boost, along with senna leaf and dandelion root to keep your digestive tract moving smoothly.
Ingredients: Oolong Tea, Ginger, Apple Pieces, Senna Leaf, Green Tea, Yerba Mate Tea, Dandelion Root, Orange, Cinnamon, Safflower, Natural Creme Brulee Flavor And Natural Cinnamon Flavor 1oz
Hibiscus
Hibiscus flowers are known for their inherent tropical feel and gorgeous coloring. They come in hues of bright yellows and deep, rich magentas. Historically they were worn to signify the relationship status of females in Hawaii, but these flowers, when consumed offer a bunch of yummy benefits. Rich in vitamin C, minerals and other naturally occurring nutrients, hibiscus flowers are a great spice. Perfect to steep as a tea alone or add into your favorite tea blend.
Immune Builder
Speed up your recovery and build up your protection with a restorative blend of green tea, ginger, licorice, mint and fennel. Ingredients: Green Tea, Peppermint Leaves, Ginger, Licorice, Cardamom, Fennel, Marigold Flowers, Black Peppercorn And Cloves 1oz
Jasmine Tea
Green tea from the Fujian province of China infused with the delicate scent of the night-blooming jasmine flowers. If you enjoy jasmine tea you'll find pure delight suitable daily treat. It produces a sweet cup with a light and lingering scent of fresh jasmine flowers 1oz
Lemongrass Ginger
Consider this your new go-to sick day tea! The zest of lemongrass and ginger blend with soothing peppermint and licorice root to provide a therapeutic cup of tea that pairs perfectly with a spoonful of honey. Helps clear your sinuses and calm your cold, peppermint helps to soothe your stomach, while providing an uplifting caffeine-free energy, while licorice root coats and calms your sore throat.Contains no caffeine Best if you steep for 5-10 minutes. Ingredients: Lemon Grass, Ginger, Licorice, Peppermint Leaves, Safflower And Blue Cornflowers
Meet me in my Dreams Tea
Unwind and relax the senses with a cup of meet me in my dreams. Blended perfectly with herbs that have been used to help induce sleep, reduce anxiety, lower blood pressure, fevers, colds, stomach discomfort, as an anti-inflammatory, and headaches. Contains no caffeine. Best if you steep for 5-10 minutes. Ingredients: Valerian Root, Honeybush Tea, Chamomile Flowers, Spearmint Leaves, Passion flowers, Lemon Balm, Lavender, Cherries and Blue Cornflowers
Peppermint
Dried peppermint leaves to make a minty, refreshing drink that is highly satisfying both hot and cold. Contains no caffeine. Best if you steep for 5-10 minutes.
POM
We trust you will enjoy this blend of premium Ceylon black tea, sweetly tart Pomegranate flavor, and decorative raspberry pieces. Contains a high level of caffeine. Best if you steep for 3 minutes. Ingredients: Black Tea, Natural Pomegranate Flavor, Raspberry Leaves And Raspberries
Pumpkin Spice Tea
A smooth sweetness of spiced pumpkin and exotic spices just in time for autumn and winter! Contains a high level of caffeine. Best if you steep for 3 minutes. Ingredients: Black Tea, Cinnamon, Natural Pumpkin Spice Flavor, Cloves, Ginger, Cardamom And Marigold Flowers
Rooibos
Known as Red Bush or Red Tea, Rooibos is an herbal plant that grows in South Africa. Rooibos is a flavorful alternative to tea for those seeking to minimize caffeine intake. Top-grade & organic. Contains no caffeine. Best if you steep for 5 minutes
SooLONG Fat Burner
Accelerate your fat burning potential with our EXCLUSIVE holistic blend of Oolong tea. Cinnamon, cloves, as well as hints of orange and raspberries combined with oolong create a smooth taste that promotes fat burning and helps to speed up your metabolism. It will even help you maintain your weight loss. 
Drink a few cups of this tea daily to get fat burning results. Contains a low level of caffeine. Best is steeped for 3-5 minutes. Ingredients: Oolong Tea, Raspberry Leaves, Natural Pomegranate, Black Tea, Cinnamon, Orange 1oz
Sweet Spice
The robust sweet spiciness that emerges from a cup of this decaf medley of oriental spices is sure to relax you after a long day. Contains no caffeine. Best if steeped for 3 minutes. Ingredients: Decaf Ceylon tea, Natural Spice Flavor, Cinnamon, Orange, Ginger, Cardamom and Cloves
Throat Care
Helpful with the sore throats, this is a soothing & warm treat during the cold months. This combination of sweet licorice, calming anise and fresh raspberry leaves is perfect not only for sore throats but allergies, itchy throats, musicals, and speakers. Contains no caffeine. Best if steeped for 5 minutes. Ingredients: Licorice, Raspberry Leaves, Hibiscus, Orange, Cinnamon, Aniseed And Slippery Elm
Tropical Paradise
Take a sip, close your eyes and drift away into paradise with a cup of this blend. Passionfruit and mango coats the tongue, developing even more flavor as it cools. Pour a freshly brewed cup over ice and you'll have yourself a new favorite warm weather treat! Floral, fruity and fun… this herbal blend has got it all! Contains no caffeine. Best if you steep for 5-10 minutes. Ingredients: Hibiscus, Mango Pieces, Rose Hips, Lemon Grass, Raspberry Leaves, Natural PassionFruit Flavor, Apple Pieces, Rose Petals, Apricots and Cinnamon
Tummy Tamer
Calm your stomach with soothing senna while relaxing your senses with the natural sweetness of our anise and licorice blend. Low level of caffeine. Best if you steep at 5 minutes. Ingredients: Senna leaf, Licorice root, Green rooibos tea, Orange peels, Chicory, Aniseed, Slippery elm, Pu erh tea & Ginger root